The White Thrill
Saturday, 22nd April 2023
(in German Der weisse Rausch)
The legendary race fascinates St. Anton's winter athletes. The "monster" Valluga must be conquered.
Entry Fee: € 76,-
incl. finishing present and pasta party
€ 5,- reduction for ski club Arlberg members (upon presentation of the membership card, Austria Ski Card, only)
*Please note: skipass is not included in the entry fee
Route: Valluga - Valfagehrjoch - Ulmerhütte - Moos - St. Anton, 9 km
Route Plan to Download: Interactive Route (click here)
Starting Groups: Ski Alpin, Snowboard, Telemark, Kurzski (up to 100 cm)
Team classification:
From 2023, the fastest team will also be premiered. There must be at least 1 lady in each team, 1 team consists of at least 3 people. The fastest three times will be scored. When registering, please ensure that the team name is spelt correctly so that the classification system can allocate the persons.
Starting Number Issues:
Friday, 21 April 2023: 18.00 to 20.00 hrs at the Arlbergsaal
Saturday, 22 April 2023: 08.30 to 13.00 hrs at the Arlbergsaal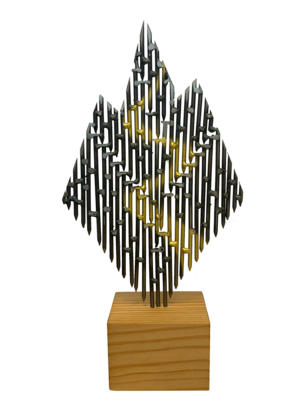 Trophy for "Der weisse Rausch" 2023 created by Manfred Hellweger:
"This trophy is meant to reflect the toughness of this race on the one hand (steel) and on the other hand also the endurance and determination needed to finish (over 50 individually welded nails per trophy)".
Please Note: That start numbers must be colledted in PERSON by 12.00 hrs. The entry fee will be retained in the event of non-collection! Only 555 starting places will be assigned!
Pasta Party: Saturday, 22 April 2023 from 13.00 hrs onwards in the Galzigrestaurant
Start: Saturday, 22 April 2023 from 17.00 hrs onwards
It will be started in blocks. You will be given more information at the starting number issue, although we already point out now that compliance with the ascent and the starting times is essential.
Please Note: We refer you to the fact that, due to the different slope conditions of the individual starting blocks (handicaps), the winner can only emerge from the 1st starting group. 15 "wildcards" will be issued for starters in the 2nd and 3rd starting groups. Crucial for a "wildcard" is the previous year's result as well as the skiing career. "Wildcards" assigned by OK only and no objections may be raised.
Scoring Deadline: 18.30 hrs
Programme:
17.00 hrs start
19.00 hrs award ceremony


Prizes: The prize money of EUR 1,900.00 in total – will be shared among the winners of the individual starting groups. Cups are available for the first THREE in the group assessment.
The legendary race fascinates St. Anton's winter athletes. The "monster" Valluga must be conquered.